How to purchase from Amazon
How to purchase from Amazon
AMAZON BUSINESS
Before purchasing from Amazon Business, please check the electronic catalogs available in myUF Marketplace and the UF Procurement Contracts section of this site. UF has access to many contracts with suppliers who have agreed to best value contracts for UF with UF-friendly terms and conditions, including customer service and often free shipping – these contracts provide many of the items available from Amazon. If you have questions or need assistance shopping in myUF Marketplace, please e-mail procurement@ufl.edu with a description (or screen shot) of what you are trying to purchase.
Amazon Business provides FREE Two-Day shipping on Prime eligible items, no matter the order size, and tax-exempt purchasing on items sold by Amazon.com LLC and participating 3rd party sellers.  The Amazon Business Customer Service team can be reached at 888-281-3847.
Requesting an Amazon Business Account
All Amazon Business purchases should be placed through UF's centralized UF Amazon Business account. To access UF's Amazon Business account, please email your request to procurement@ufl.edu from your UF email account, with the following information:
-Your name
-Department
-UFL Gatorlink email address
-Do you have an active UF PCard in your name?
-What or who (name) prompted you to ask for access to Amazon Business?
-What is your role at UF? (Fiscal staff, graduate student, etc.)
-Have you used myUF Marketplace? If not, do you know what it is?
-If yes to the above, is there a specific category of products you need you cannot find in myUF Marketplace?  Please provide specific examples?
Your request will be processed within two business days. Once processed, you will receive an activation email directly from Amazon.com with the subject line, "Welcome to Amazon Business."  The activation period is time sensitive; please take action as soon as possible. For questions on activating your account, please reference the Registration guide posted here: Registration Guide.
How do I activate my Amazon Business account?

Activate your Amazon Business account by clicking "Accept the Invitation" from the Amazon.com email. The activation email will look similar to the one below, the subject line is "Welcome to Amazon Business." The first time you access Amazon Business, you will be prompted to create an Amazon Business account. You must use your University of Florida email address for your Amazon Business account.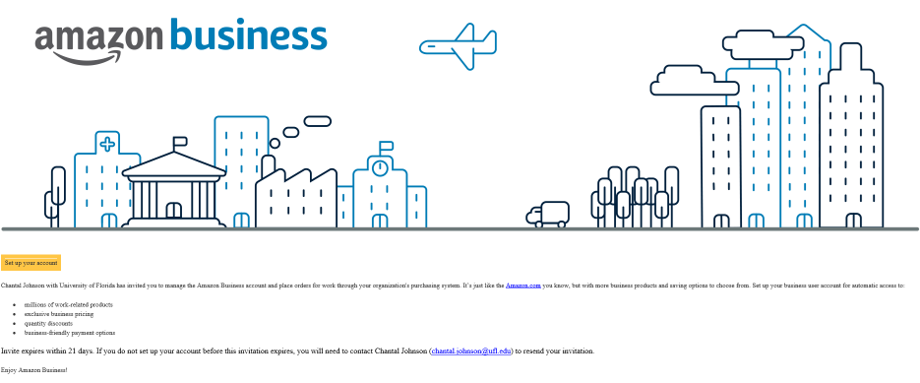 What if I have previously used my University of Florida email address to register for a verified Amazon Business account?
All previous, stand-alone, Amazon Business accounts must be migrated under the centralized UF account. Prior to joining the UF account, you will need to de-register your account (instructions below). Please note, the migration of your account will not impact your purchasing process and you will log in using your same user credentials.
BEFORE you take the following steps to de-register your account, please contact procurement@ufl.edu if one or more of the following is applicable to you:
You are on an account with multiple users
You have workflow approvals established on your account
You have a shared payment method established on your account
You have any other specific features or customizations enabled on your account
If NONE of the above is applicable to you, please take the follow steps: 
Log onto your Business Account and download an order history report for the past 6-12 months (recommended best practice)
If applicable, remove all users from the account
Click the following link to deregister your existing account (it will not remove any information on the account, simply the Amazon Business account tag): https://amazon.com/gp/b2b/manage/deregister
Once this process is complete, please email procurement@ufl.edu and you will be sent an activation email to join the main UFL account. If you remove any users on the account, please include their names in the body of your email.
When I click "Accept the Invite" in the activation email, I am prompted to log in. I do not know my log in credentials.
If you do not remember your Password, please call Customer Service and ask for a link to reset your Password. Customer Service can be reached at 888-281-3847.
Can I use the University of Florida Amazon Business account for personal use?
No. The centralized University of Florida Amazon Business Account should be used for business purchases only. Non-compliance with this directive may be considered misuse of PCard.
I already use my University of Florida email address to make PERSONAL Amazon.com purchases.

If your University of Florida email address is already associated with an Amazon.com account, you will have the option to split off and transfer any purchase history to a separate account. You will be prompted to enter a new, personal email address (e.g. gmail.com or hotmail.com).
Can I agree to the Amazon Business Terms and Conditions when I sign up for my account?

Yes, the Terms and Conditions have been reviewed and agreed to by UF Procurement.
Shopping on Amazon Business
What am I able to purchase on Amazon Business?
UF has established a centralized Amazon Business account to make purchases of items not available through myUF Marketplace and other contracts easier. Through Amazon Business, UF has access to all items available on the standard Amazon.com site, plus additional business-specific items, as well as other items.
Before you purchase, check with UF Contract Suppliers
Before you complete your purchase, please check UF's contract suppliers on myUF Marketplace.  Although price is an important factor, finding best value for UF is key.  UF contract vendors provide service, in addition to competitive pricing.  If you shop under a category where UF contract supplier can potentially provide a product, you will get a pop-up message reminding you to check with UF contract suppliers first.  The pop-up doesn't prevent your purchase but serves as a reminder. You can find more information on the UF Procurement Contracts webpage.  If you are unfamiliar with myUF Marketplace more information can be found here, or contact procurement@ufl.edu.
How do I get FREE TWO-DAY shipping?
Through UF's centralized Amazon Business account, you will have unlimited fast, FREE Two-Day shipping on eligible items. Products eligible for Business Prime Shipping will be designated with a "Prime" logo on the product page and at checkout. Please note, not all shipping speeds are available for all items and all addresses.
I purchased a Prime Membership with my P-Card. Can I receive a refund now that I have joined the University of Florida Business account?
Yes, navigate to Manage My Prime Membership > End Membership and follow the steps to cancel your Prime membership without having to reach out to Customer Service. The pro-rated refund will be automatically calculated and issued to you. Please note: Customer Service Agents will not be able to issue a pro-rated refund for you if you call to cancel your Prime membership.
I was charged sales tax on my order even though my Amazon Business account is setup for tax exempt purchasing. How do I get refund? 
If your item is sold or fulfilled by Amazon, you can request a tax refund directly from Amazon by calling Amazon Business customer service at 888-281-3847. If you purchased your item from a 3rd party seller, go directly to "Orders", locate the item that was charged tax, and click Contact Seller. Please give the seller two business days to respond.
How do I contact Amazon Business Customer Service?
Amazon Business Customer Service can be reached at 888-281-3847.
How do I share feedback with University of Florida about my Amazon Business experience?
We value your input! We want to hear what's working well and what you would like to see improved. Email your feedback to procurement@ufl.edu.
Last Updated 8/2/2021