July 18, 2022 Quarterly Upgrade 22.2 in myUF Marketplace – Forms New Look and Feel
July 18, 2022 Quarterly Upgrade 22.2 in myUF Marketplace – Forms New Look and Feel
The July 18, 2022 Quarterly Upgrade in myUF Marketplace has a new look and feel for all Forms. For the next three months, toggle back to the old forms by clicking the View Classic Form button at the bottom.

In October 2022, with the next Quarterly Upgrade 22.3, the new look and feel in the Forms will no longer have a toggle button. Please take time now to become used to the new forms…

Here are some tips for how the new screens will work:
Required fields will now have an asterisk* instead of being bolded
Colors and visibility will change but the content and fields will remain the same
The Household Moves form will have two new fields:

Spouse or partner/family member in household also employed at UF
Separate lab move needed
Access Forms as always, on the Home Page by clicking on one at the top, or by clicking the Forms link:

When you open the form, it will look different but have the same components. Just complete and click the orange Add and Go To Cart button: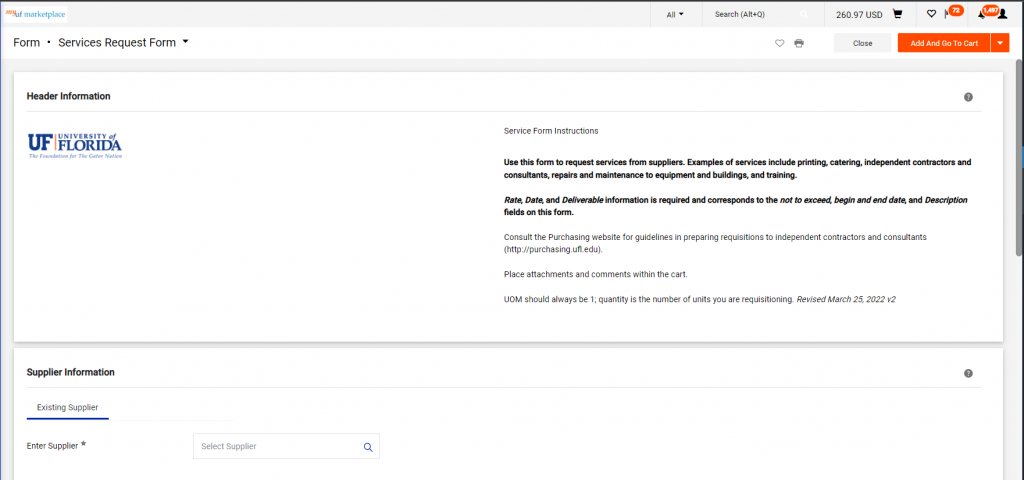 If you would still like to work in the original Form's formatting, scroll to the bottom and click on the View Classic Form button at the bottom: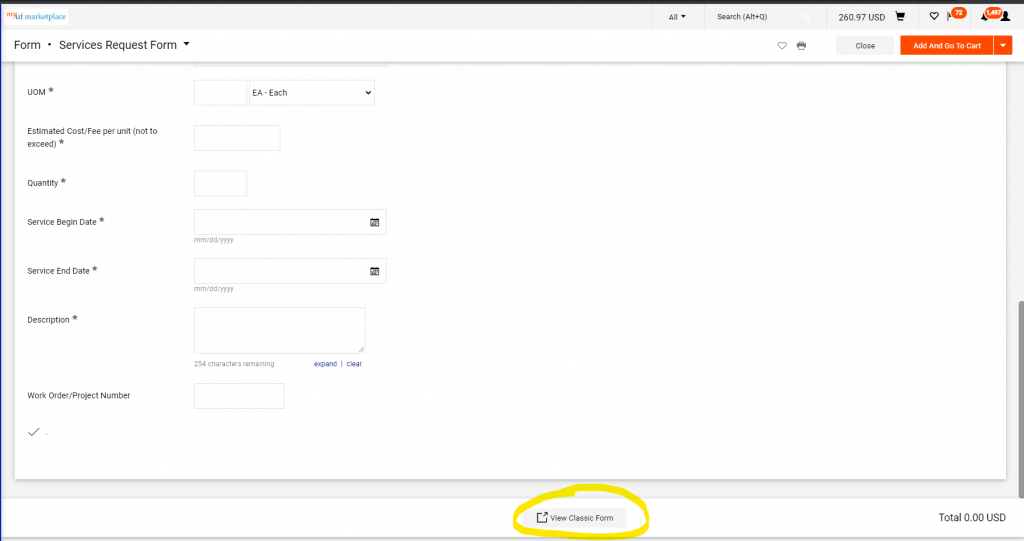 The original form will display in a new window. You may complete it here and submit.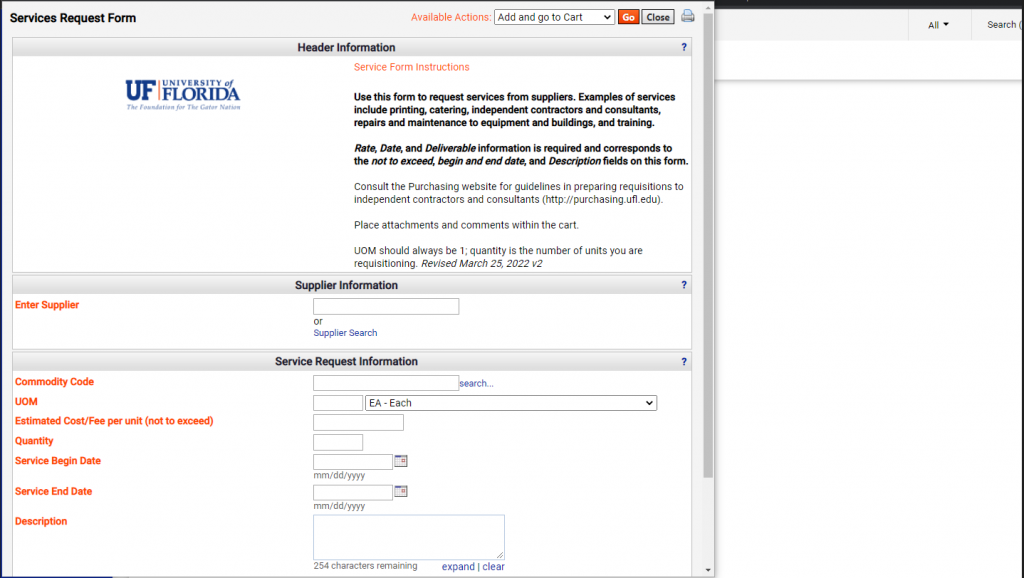 All forms will show the new look and feel:
Home Page:
Services – used for Services provided
Amount Only – used for blanket purchase orders
Enabled Vendor Quote – used for quotes with punchout/hosted catalog vendors when quote cannot be pulled via punchout
Agreement Intake – used to send contract to Procurement for signing only; does not go to myUFL or to vendor
Confirmation Purchase Request – used when PO was not created to pay invoices; needs justification. Does not go to vendors or myUFL.
Forms Menu:
Household Moves – for departmental request of household moves for incoming faculty/staff
UF Owner Direct Services Form – used only by Facilities Planning and Design FPC
UF Subcontract – used only by Contracts and Grants
Facilities Services – used with a workorder to send UF Facilities a cost center and does not go to myUFL
UF IT Services – used for services internally from UF IT and does not go to myUFL.
For feedback, question or comments, please email procurement@ufl.edu or call 392-1331 or myUF Marketplace@ufl.edu or call 352 392-1335.
July 18, 2022