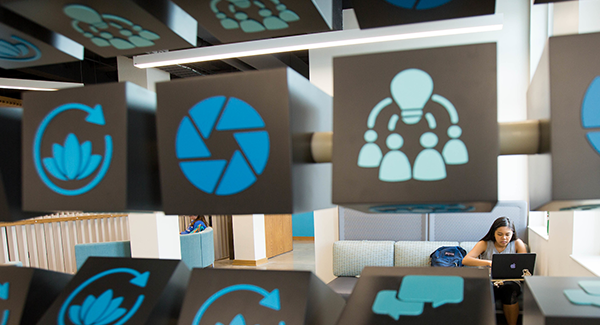 UF Procurement welcomes suppliers interested in doing business with the University. We desire to maintain an open, competitive, and friendly atmosphere in order to foster a mutually beneficial relationship with our suppliers.
SUPPLIERS, PLEASE NOTE: Due to the current workload, we ask that you call in advance for an appointment. Thank you for your consideration.
Suppliers should note that UF Procurement follows all mandates in accordance with Florida Statutes, Board of Trustees and University of Florida Regulations. We subscribe and adhere to the Code of Ethics of the National Association of Educational Procurement. We foster fair, ethical and legal trade practices at all times.
To this end, we request that all suppliers honor the established rules and regulations in order to conduct business with the University of Florida.
No merchandise may be shipped nor any service performed without a Purchase Order or Procurement Card (card) number. Telephone orders require a purchase order unless the University's Procurement Card is being used.
No CODs will be accepted.
Fraudulent Purchase Order Attempts
Please be aware there are active fraudulent attempts to place purchase orders and request for quotations that supposedly to originate from the University of Florida. While the university cannot prevent this illegal activity, we are actively working with law enforcement to investigate these fraudulent attempts.
Here are common traits or themes in these fraudulent attempts that may assist identifying fraudulent requests:
The email message is poorly written, with misspellings and awkward sentence structure
The sender's email address or website link are not authentic to the University of Florida (email address end in .edu)
The form requesting a quote provides an email address that is not authentic to the University of Florida
The message may request shipment of products to a non-University of Florida address
The message may include an attachment that is designed to look like a purchase order, may include a logo or other graphic, and a signature that may look legitimate
Procurement Services at the University of Florida appreciates the very important role our suppliers play in providing goods and services to our faculty and staff in support of their academic, research, and patient care endeavors.
If your company has been contacted, please:
File a complaint with the Internet Crime Complaint Center:   www.ic3.gov Submissions to this site are monitored by the appropriate Federal Agencies for on-line scams
If your company received an email from an address other than one ending in .edu, please use the link below to identify the headers from the email, and send that information to Procurement@ufl.edu so UF can report it to UF's abuse team. How to retrieve email header information:  https://security.ufl.edu/learn-information-security/protect-yourself/email/reporting-email-abuse-at-uf/
If your company has shipped an order based on a fraudulent PO issued under the UF name and are facing a financial loss, please also contact your local Law Enforcement agency and you may inform them of our case numbers (UFPD12OFF606, UFPD13OFF562, & FDLE GA-11-0042).
Supplier Application
All suppliers, Domestic Consultants, Research Participants and individuals who are not UF employees performing services are required to supply the following information, Domestic Companies, non-affiliated individuals, government agencies, educational facilities, associations, organizations, etc. providing goods or performing services are required to register via the Supplier Portal on the Disbursements Website. Please read in detail the Supplier Portal page on the Disbursement Website to proceed with the supplier registration request via the portal.
If you need any help, you may reach out to addsupplier@ufl.edu. Once a request registration has been processed by University Disbursement Services personnel, suppliers will receive a confirmation email from addsupplier@ufl.edu. The email will contain the UF Supplier ID. This is the final part of the registration/change process for suppliers.
Insurance Requirements
PLEASE NOTE: This list only contains suppliers with updated and additionally insured General Liability and Auto Liability, as well as updated Worker's Comp insurance.
All suppliers conducting business on University of Florida property must be properly insured. Below is information on UF's insurance requirements.  Further below is a link to a list showing all suppliers that currently meet UF's insurance requirements.
UF insurance requirements:
For suppliers conducting business on UF property:
Commercial General Liability Insurance – liability limits of at least $1 million per occurrence / $2 million aggregate for bodily injury, death and property damage and shall protect UF from claims which may arise whether such claims may arise out of the operations of the supplier or by anyone directly or indirectly employed by the supplier.  / $2M aggregate
Automobile Liability Insurance – at least $500,000 per occurrence – on all vehicles used to carry out the contract to protect UF against bodily injury and property damage
Worker's Compensation Insurance – as required by Florida Statute, Chapter 440. If the supplier is exempt from carrying Worker's Compensation, provide UF the exemption certificate
Suppliers with Valid Insurance_20230929
Updated 09/29/23
When appropriate to the purchase being made:
Builder's Risk – Insurance at replacement cost if indicated by the nature of the contract
Cyber Security – Professional Liability insurance with a minimum per claim liability limit amount of $1,000,000.
In the event the Vendor is hosting UF information, Cyber Liability insurance will be required with a minimum aggregate liability limit amount of $1,000,000.
Marine Insurance – provide UF marine insurance which covers the boat/ vehicles and the marine pilot or captain's license
Aviation Insurance – provide UF aviation insurance certificate and copies of the front and back of pilot licenses
Please note that the University of Florida must be named "additional insured" on the automobile and general liability policies.
The Certificate Holder needs to read: University of Florida Board of Trustees, Procurement Services, PO Box 115250, Gainesville, FL 32611
Business Hours
Although it is not required by Procurement, Suppliers who desire to meet with Procurement to discuss their company or products are encouraged to make an appointment to meet with the appropriate Procurement Agent. Appointment hours are between 8:00 AM to Noon and 1:00 PM to 4:30 PM, Monday through Friday. Cold calls are not encouraged.
Supplier Solicitation
Please review this specific Supplier Resource Guide listing to assist you in effectively engaging University of Florida departments and academic units.
Please remember that all supplier visits to departments and academic units are by appointment only. Appointments are made during normal business hours (Monday through Friday, 8am to 5pm). Be prepared to discuss your company's qualifications, capabilities, references, products and/or services, price, and delivery.
Questionable Supplier Practices
Any supplier that attempts to scam any University of Florida department or employee will be reported to Procurement and appropriate actions will be taken to prohibit the supplier from conducting business on our campus. Note: Florida Statutes 570.545 states that when unsolicited goods are delivered, the person is not obligated to return the goods to the sender or make payment to the supplier. The law also states that unsolicited goods shall be deemed a gift and recipient may use or dispose of them in any manner without obligation to the sender.
---
---
---