How to Purchase from Best Buy
How to Purchase from Best Buy

Please be sure to check the Contracts section of this site FIRST before purchasing from Best Buy. If you have questions, please e-mail procurement@ufl.edu.
Contact Information
Stephen Manero
Strategic Account Manager
­­­­­­­­­­­­­­Cell: 603-391-6647
1-800-373-3050
stephen.manero@bestbuy.com
Hours: Monday – Friday
8:00 a.m. – 4:30 p.m.
Before Ordering Online or Purchasing in Store
To receive Sale Tax Exemption you need to register on Best Buy's website, cardholders will need to upload an electronic image of the Tax Exempt Certificate – Sales Tax Exemption Certificate. There is no blanket tax exemption for UF when ordering through Best Buy's Consumer website.  Each cardholder will have to do this individually. If you previously had a physical Tax Exempt Card those are no longer valid, and you will need to register below.
To Register please contact Stephen Manero at stephen.manero@bestbuy.com. He will need your full contact details and will assist you in the Tax Exempt Process. You can also use the following Link.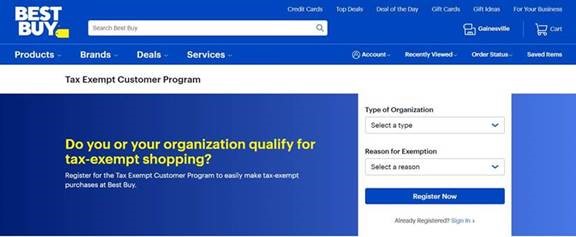 Ordering Instructions
The following instructions were provided by UF's Best Buy Stores LP rep, Stephen Manero. Stephen provides helpful information to ensure departments receive the correct discount and do not simply pay retail prices at the local Best Buy store.
Step 1: Determine exactly what you would like to buy, including complete description, color, quantity, and part numbers.
Step 2: Email your selections to Stephen to receive a written quote.
Step 3: Once you have received your quote back from Stephen, submit the quote to your fiscal staff so that a requisition can be created.
Step 4: Procurement submits a PO to Stephen who places the order for you and contacts you concerning pickup or delivery.
Delivery
Standard delivery timeframe is 3-5 business days on in-stock products.
Special order products may be in the 2-4 week time frame.
Next day delivery is only available if there is a local store with the product in stock.
Same Day Delivery is only available if the order is placed in the morning, the local store has it available, and we can locate a courier to deliver.
Store Pick-Up
Available if the local store has the product in stock. No delivery charge applies with Store Pick-up.
If the purchaser wishes to contact the store, in many situations orders can be created "on-the-fly". The store will still need either a PO faxed or a credit card to complete the sale.
Methods of Payment:
Credit Card – Visa accepted.
Purchase Orders – Best Buy Stores LP is the only Best Buy entity that is able to accept Government or Educational Institution P.O.'s.
Please contact Stephen to establish the required account and to answer further questions.