myUF Marketplace: Department Roles
myUF Marketplace: Department Roles
myUF Marketplace: Department Roles
Department role descriptions are intended to assist managers who design unit purchasing processes decide what myUF Marketplace role to assign staff in the unit.  Each role is assigned by the user's Department Security Administrator (DSA). For more information about DSAs please see the Enterprise Systems Security Webpage. Please note that each staff member can only have one of the roles listed assigned to him or her. In addition to the descriptions below, please refer to the Workflow page, which describes how transactions flow through myUF Marketplace.
Shoppers – UF_N_MKT_SHOPPER and UF_N_MKT_SHOPPER_REQ
The Shopper role (UF_N_MKT_SHOPPER) is a role that is automatically assigned to permanent staff and faculty. The navigation in myUFL is: My Self Service > myuf Marketplace. For non-permanent staff and faculty (e.g., graduate assistants, OPS), a Shopper role can be requested (UF_N_MKT_SHOPPER_REQ) by the user's Department Security Administrator.  Shoppers whose role is requested navigate to eProcurement > myuf Marketplace.
Shoppers do not need to attend in-person training for this role. However, training is available online through Training and Development and via the instruction guides on the Procurement Toolkit. Please note that it is not necessary for departments to assign shoppers unless they so wish, as requestors are automatically assigned the shopper role as well.
As a shopper, you can build a cart, but you cannot place the order. You must assign your cart to a requestor. You can search for known requestors by name. Requestors must have already logged into myUF Marketplace for their names to appear. To be a shopper, you do not need to know ChartFields.
Requestors – UF_N_MKT_REQUESTOR
The Requestor role may be requested by a DSA after the employee completes in class or online training. Requestors can also shop (i.e., this role is built into your role as a requestor) and can receive carts from shoppers. Requestors cannot be Financial Approvers. The navigation in myUFL is eProcurement > myuf Marketplace.
Requestors are highly trusted employees and are the only roles that can place orders. Requisitions up to $2,000 on e-catalogs do not route for department financial approval. Requisitions for more than $2,000 or to vendors who do not have e-catalogs route for department financial approval. For more information on transaction flow in myUF Marketplace, please see the Workflow page.
Financial Approvers – UF_N_MKT_FINANCIAL_APPROVER
Financial Approvers are responsible for reviewing requisitions (PRs) for appropriateness of purchase and financial/chartField information. They must have appropriate management/financial responsibility. Approvers may elect to complete in class or online training to help them better understand the myUF Marketplace application, but are not required to attend training.
As an approver, you may approve, modify or reject an entire requisition or lines in a requisition. The transaction will reflect the history of any changes made. You may also shop, but you must assign your cart to a requestor. You cannot have both requestor and approver roles and cannot approve your own purchase request (PR). The approver role is assigned by a DSA. After requesting the appropriate role, complete the Department ID myUF Marketplace Authorized Approver Form for Requisitions and Invoices and attach it the myUF Marketplace Helpdesk Contact Form, to specify for what department ID the Financial Approver will be approving.
Please note that not all transactions route to Financial Approvers. myUF Marketplace workflow for approvals is based on the 8-digit DeptID in the requisition's ChartFields. Two approvers are required for each DeptID. Different people can approve requisitions based on dollar amount. Approval folder ranges are: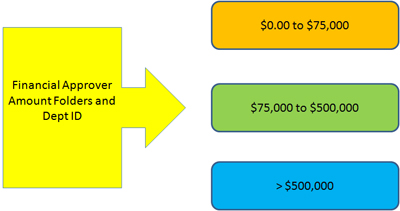 last revised 4/10/23