Amazon Business is in myUF Marketplace
Amazon Business is in myUF Marketplace
How to Purchase from Amazon Business Prime at UF
On Monday, Sept. 12, UF's Amazon Business account moved to an electronic (punchout) catalog in myUF Marketplace. This change took place because the volume of UF's purchases with Amazon reached a point that required UF to apply the same procurement processes used for other electronic catalog purchases.  The UF Amazon Business website is no longer available for shopping using a ufl.edu email address.
Accessing Amazon Business
To access the UF Amazon Business account, navigate to myUF Marketplace and click on the Amazon Business tile in the Office/Computer section.  This will take you to the website which will look identical to the website that you have previously used with Amazon Business Prime.
When I click on the Amazon tile on myUF Marketplace, the page tells me the punchout will open in a new window, but nothing happens.
This means your browser is blocking the pop-up window.  Please visit the following link which will provide directions on disabling pop-up blockers for several browser types: https://www.k-state.edu/ksis/help/gettingstarted/Disabling-Popup-Blockers.html .
When I click on the Amazon tile on myUF Marketplace, the tile opens but an Error Message (HTTP Status 400-Bad Request) pops up.
The solution for this is to clear the cache & cookies in your web browser. Please use the guides here on troubleshooting clearing cache & cookies from the UF Helpdesk https://helpdesk.ufl.edu/self-help/web-browser-troubleshooting/
What if I used my UF email address, that is found in the UF directory, to set up a personal Amazon.com account?
The first time that you punchout from myUF Marketplace to Amazon Business, you will receive a prompt that will ask you if you want to migrate your personal account to the AB account OR if you want to keep your personal account separate.  If you say yes, your existing account will migrate with the UF AB account.  If you say no, you will be prompted to change the email address on your personal account to a different email address (e.g. Gmail, yahoo, etc.) that is not currently associated with an Amazon account.  At that point, your UF email address will be freed up to join the UF AB account with a clean profile.  Please see this in scenarios 2 and 3 in the guide linked here.
I forgot my password for my Business account and am unable to reset the password.
Please contact Amazon Business Customer Service at 1-888-281-3847.
Orders
How will I know when I will receive an order?
The person who placed the order will receive a confirmation email that will state the order's estimated delivery date and shipping speed.
How do I see the orders I placed after joining the Amazon Business Account?
From within your account, navigate to Your Orders. The default view will display all orders "Paid For By You".
Who will be able to see orders that are placed?
In the Amazon Business punchout, only the shopper can see the orders that they have placed.  In myUF Marketplace, however, others can see requisitions and purchase orders associated with Amazon Business.
Will I be able to print out packing slips from the punchout?
Yes, you will be able to do that via your account in the punchout.
How does Amazon place the orders that come to them with multiple sellers?
When a purchase order is sent to Amazon, the order may be split into multiple Amazon Order ID's if it is being fulfilled at a different fulfillment center or by a 3rd party seller. The order is still tied to the same purchase order but comprised of multiple Amazon Order ID's which may ship at different times.  This is why invoicing is done per shipment.
When placing bulk orders, sometimes the seller has limit, and they must be contacted directly to have the limit removed and an order placed.  Is that still possible?
Yes, that should not change.
How do I track my Amazon Business delivery?
You can view real-time delivery details for all pending orders, including estimated delivery date and carrier information. From within your account, navigate to Your Orders > Track Package.
Can I save products I purchase frequently?
Yes, create Lists! To begin, hover over Lists in upper right corner of your screen and select Create a List
Select This list is for: you from the dropdown menu
Select list type: Shopping List or Reorder List
Name the list
Privacy: Private
Create List
Is the URL for a product the same in Amazon Business as it is in the consumer site?
No, the URLs are different.  You can search for the product in both sites by the Amazon Standard Identification Number (ASIN) in the product description details. ASINs start with "B0".
Why did I receive an email indicating that my order has been halted?
Amazon Business provides a dynamic marketplace of products, with changing prices and quantities. Controls have been put in place to account for these fluctuations (see Safeguards in the next Question). Although the email instructs you to contact your Amazon Business Account Administrator, the best way to get more information on a halted order is to contact Amazon Business Customer Service HERE.
Are there any limitations to PunchOut from myUF Marketplace that would result in my order being cancelled?
Yes. There are five instances in which orders can be cancelled due to limitations Amazon Business limitations:
Safeguards – If the approval is not completed within the seven-day cart lock, and the order falls outside of the safeguards at the time of approval (item/s pricing has increased more than 10%), the impacted item(s) or order will be cancelled.
Multiple PunchOut Sessions – Multiple PunchOut sessions can result in a cancelled order. When shopping on Amazon Business through PunchOut, make sure to use one PunchOut Session per order.
Changing or Modifying Cart – If PO is sent with deleted line items or modified quantities, the order will be rejected.
Address on Final PO Differs from Address at Checkout – If the checkout address is in the contiguous US, but the address on the PO is outside the contiguous US, the order will be cancelled.
Zip Code Change for Next Day Delivery – If the zip code on the final PO differs from the zip code used for the address at checkout and the item is set for next day delivery, the order will be cancelled.
What if I have pending orders appearing under "Your Orders" even though they have not been approved and sent to Amazon?
Any order may be subject to an approval workflow within myUF Marketplace.  Your order will not be processed until final approvals are completed. The order will remain in your order history for up to 7 days as "pending" until Amazon receives the purchase order from myUF Marketplace.  Once approved you will receive an email confirmation. If the order is not approved within 7 days, it's possible the order or particular items whose price has increased beyond 10% of the previous price will be cancelled and you will be notified via email. If the cart was cancelled and you still need the items, you will need to submit the order again for approval.
Am I able to make purchases through Amazon Business without accessing myUF Marketplace
No. Business purchases should only be made through myUF Marketplace. If you attempt to make a purchase outside of myUF Marketplace you will not be able to check out and will receive an error telling you that your organization is using a purchasing system (myUF Marketplace) for ordering.
What security role should we use for the Amazon punchout?
All permanent university employees have access to myUF Marketplace and are assigned the UF N MKT Shopper role upon hire.
If students need access to myUF Marketplace, ask your DSA (Department Security Administrator) to request the UF N MKT Shopper Req role.
Note: All Shoppers need to assign their cart to a Requestor.  Ask your department fiscal staff for the department Requestor.  Shoppers assign carts to Requestors, see the instruction guide https://procurement.ufl.edu/wp-content/uploads/2022/08/AssigningMyCart_Requestor.pdf.
If your department has many shoppers, you may want to consider adding more myUF Marketplace Requestors.   Talk with your fiscal staff. To become a Requestors:
1) Requestor must take training: PST073 Introduction to Purchasing in myUF Marketplace.
2) DSA requests the role UF N MKT Requestor.
Can I do a change order on a PO to Amazon?
No.  Amazon is an electronic catalog and like other punchouts* in myUF Marketplace, the suppliers' systems are not configured to accept changes to orders which are accepted and processed electronically and ship quickly.
*Punchout is a myUF Marketplace electronic catalog where UF is shopping on the suppliers website but receiving UF pricing
Click here for Procurement's website on FAQs on Change Orders for what you can and cannot change.
If you need to return or cancel an item, see How Can I Return or Cancel an Item in this FAQ
What is the supplier name for Purchase Orders through the new Amazon Business punchout?
Amazon Capital Services
How do I access my Amazon Business account?
Before you access the Amazon Business Prime punchout website on myUF Marketplace, you will want to ensure that your email address used to access the Amazon Business Prime website outside of myUF Marketplace matches the email address listed in the UF directory.  Otherwise, if they don't match, when you access the Amazon Business punchout, you will lose your previous order history and a new account will be created for you. Here are two helpful guides:
Delivery
Amazon Business delivers packages to UF Mail & Document Services who redelivers to campus.  For orders going to UF Zip Code 32610, UF Mail & Document Services delivers to UFHealth – Shands dock.  For order shipping to UF Zip Code 32610 please put the department PO Box in the Room Number field of the cart order (see image below):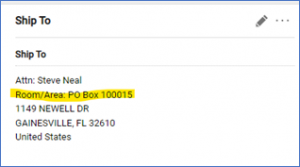 How do I indicate my Ship-To Address?
Amazon will always fulfill your order based off of the ship-to address selected in myUF Marketplace. Like other suppliers, this address selection takes place after you have brought your cart back into myUF Marketplace. While in the Amazon Business experience, you may see a default address or choose from a list of default addresses that have been pre-configured by your Administrator. You can ignore this address if you do not see the correct option available. Your order will only ship to the address selected in your myUF Marketplace itself, not Amazon Business.
Does ordering through myUF Marketplace impact my delivery speed?
myUF Marketplace has built-in workflow approvals, meaning that your order will not be fulfilled until it is approved, and an approved purchase order has been sent to and accepted by Amazon Business. At that time, you will receive an email confirmation. Any delivery estimates on the checkout screen may not be applicable if the order is not quickly approved. This is applicable to Prime Eligible Orders as well.
Note: the delivery timeline for 3rd party sellers may vary.
Payment Method & Invoicing
What form of payment should I be using to make Amazon Business purchases?
University of Florida will be using Pay-By-Invoice as the primary payment method.  This will be the only payment method available during checkout using myUF Marketplace.  Once you "Submit Your Order For Approval", you will be taken back to myUF Marketplace to either complete a requisition for the order or assign the cart to one of your fiscal staff to complete the requisition.  Here is a guide on how to assign a cart:
Guide for Retrieving an Amazon Invoice From the Amazon Punchout Website
Returns
How can I return or cancel an item?
To return an item, access your Amazon Business account. Navigate to "Your Orders" to find the item(s) you want to return.  From Your Orders:
Select Return or Replace items
Choose a reason for return
Print label and authorization
Prepare package and return label
Items shipped and sold by Amazon.com can be returned within 30 days of receipt of shipment. Return policies, and timeframes, can vary if purchase was made from a 3rd party seller.
Categories
What Product Categories are available to purchase?
Amazon Business includes most items that are available on Amazon.com, plus additional business-specific products. UF Procurement is enabling you to make the right buying decisions for your business needs.  Please note that there are certain categories that UF Procurement has restricted or blocked based on purchasing policies.
Are there any category restrictions?
There are several product categories that may contain items that are not compliant based on UF purchasing polices. You may see "Organization Restricted" messaging throughout the shopping experience. Product pages marked as "Organization Restricted" are available for purchase; however, you are responsible for ensuring your purchases are compliant with UF and relevant policies and guidelines. It is encouraged that you first check with other applicable contract vendors before you place your Amazon order. You are responsible for the purchases made under your account.  Some items may be blocked from purchasing.  In those cases, the application alert you that the items have been blocked from purchase.
Are there any product restrictions that will not work for Punchout?
Digital-related products, subscriptions, and Amazon Services (such as Amazon Web Services and Amazon Fresh) are not available for purchase.
Unsupported purchases include:
Digital downloads, including: audio books (eBooks for eReader devices are available), movies, videos, music, software, and games
Electronic Gift Cards
Credit Cards
Alcoholic Beverages
Wireless Devices and Services
Subscriptions, including Subscribe & Save
Other Amazon services not found on Amazon.com such as Amazon Web Services, Amazon Fresh, and subsidiaries
Business Prime
What items are eligible for Business Prime Shipping?
Millions of products are eligible for Business Prime Shipping and are designated with the Prime logo. You'll be charged applicable shipping fees for items not eligible for Business Prime Shipping (Learn more).
Are there other benefits besides Free Two-Day Shipping with Business Prime?
Besides Free Two-Day Shipping on millions of eligible items, Business Prime Shipping provides all employees on your business account access to Prime Early Access and Prime Day deals. Business Prime Shipping currently does not include consumer programs such as Prime Pantry, Fresh, Music, or Video.
Can I use Business Prime Shipping benefits on my personal Amazon.com account, too?
No. Business Prime Shipping benefits can only be used with your business account. You are welcome to purchase an individual Prime membership for your separate personal Amazon.com account.
What should I do if I purchased an individual Prime Membership with my personal card and wish to keep my accounts and purchasing history separate?
If you previously used your business email on a personal Amazon.com account and purchased Amazon Prime, please follow the instructions to split your account within the Registration Guide linked here to separate your accounts. You will need to designate a new personal email for your personal account, your personal history and Prime membership will remain intact, and you will be able to join the central Business account with your business email.
Manage Suppliers
How do I search for suppliers in Amazon Business?
For hard-to-find items sold by a specific supplier, you can search for suppliers by name and apply filters, such as star rating, diversity credentials, and business location of the supplier, to narrow down your search results. You can also use a combination of search and filters. Once you find a supplier, you can add them to your list of Saved Suppliers. The list makes it easy for you to learn more about your favorite suppliers — you can visit a supplier's profile page (their storefront) or contact them by selecting Ask a question.
To add a supplier to your Saved Suppliers list, do either of the following:

Search for a supplier, then in the search results, select Save for Later from the Action menu – OR – Navigate to a seller's profile page by selecting the seller name, then selecting Save for Later

To remove a supplier from your Saved Suppliers list, do either of the following:

Select Remove from Saved in your list of saved suppliers or on the seller's profile page, select X Remove Supplier
If you have issues contacting the seller, or other order related questions, please contact the Business Customer Service team HERE.
Single Sign On (SSO)
Can I bypass SSO and directly access AB by logging in?
University of Florida's Amazon Business account is authenticated via SSO.  When you punchout to Amazon Business from myUF Marketplace, you will be authenticated via SSO and will pass through to the Amazon Business punchout without having to enter any additional credentials.  If for some reason you are not authenticated via SSO, you will be routed to the University of Florida SSO page for authentication.
Personal Use
Can I use the new Amazon Business account for PERSONAL use?

No. The central Amazon Business Account must be used for business purchases only, in accordance with UF purchasing policies. The UF Procurement team will have access to all purchasing history made through the Amazon Business account.
Customer Service
How do I contact Amazon Business Customer Service?
Amazon Business Customer Service can be reached by clicking Contact Us from within your Amazon Business account or by calling 1-888-281-3847. Please use this team for anything relating to an order, transaction, shipment, and general Amazon related inquiries as well.